Lean Green Belt Certification
---
Download Course File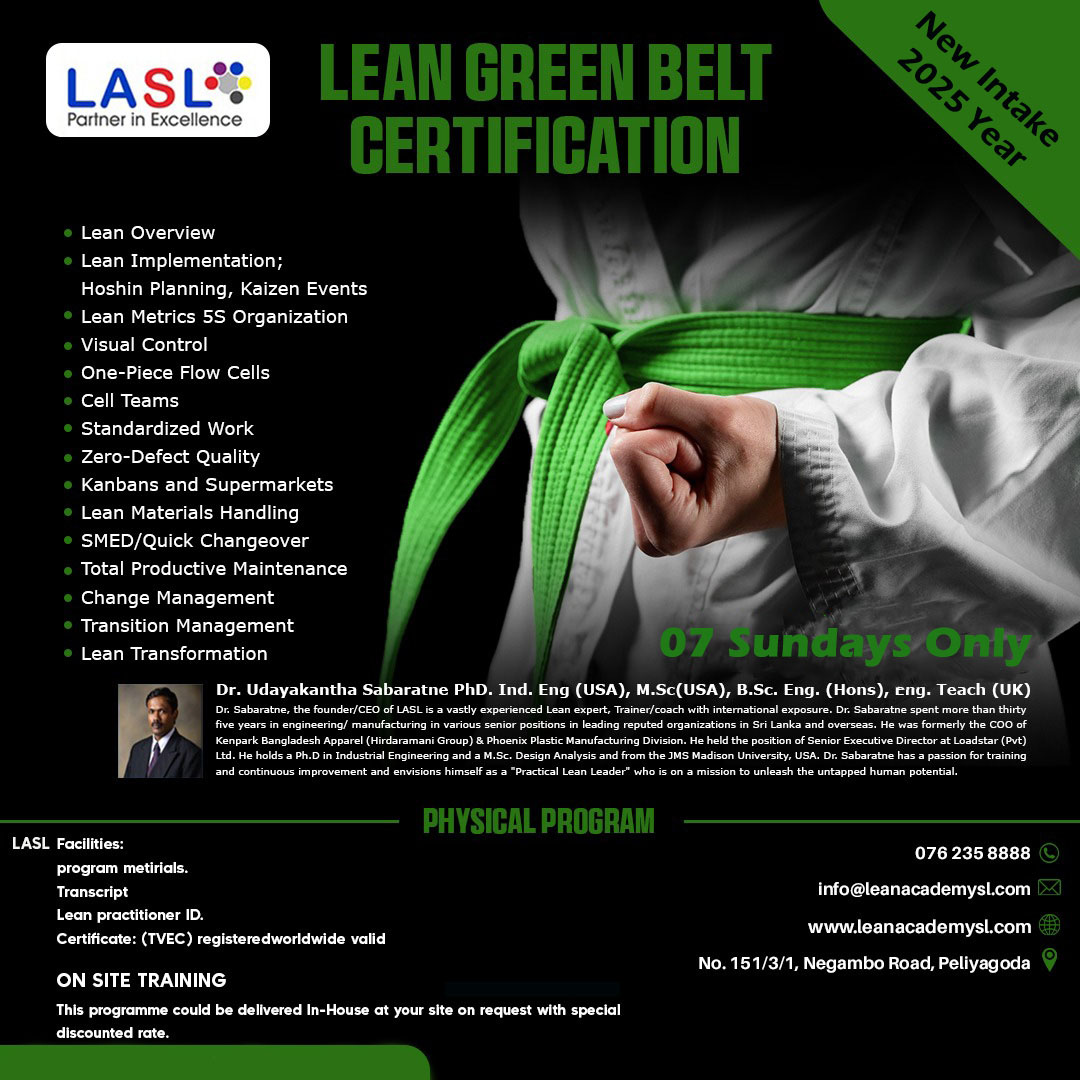 ---
LASL offers this certification module through project presentations and interaction, participants learn by doing, and from each other.
LASL registered in Tertiary and Vocational Education Commission (TVEC) under Registered No P02/0368
Lean Green Belt Nominees
Will complete the all-inclusive 64-hour training module, actively participating as classroom leaders for minimum two subjects.
Essential to conduct minimum 2-hour Lean training sessions within his or her organization or value stream
Mandatory to lead and document a major Kaizen project (Kobetsu Kaizen) in his or her own value stream or organization.
Agree to be available to work on Lean/process improvement projects throughout his or her organization at any given time.
Topics Covered - LASL/LGB/TW/ 80300
Lean Overview
Lean Implementation; Hoshin Planning, Kaizen Events
Lean Metrics 5S Organization
Visual Controls
One-Piece Flow Cells
Cell Teams
Standardized Work
Zero-Defect Quality
Kanbans and Supermarkets
Lean Materials Handling
SMED/Quick Changeover
Total Productive Maintenance
Change Management
Transition Management
Lean Transformation
Prerequisite
Lean White Belt or consent of instructor based on equivalent training and experience.
Materials
Will provide all presentation materials
Lean Green Belt implementation Guidebook
Access to the library of critical Lean training books and manuals
Note: To receive a Lean Green Belt certificate by the participant may take several weeks or months before participants successfully complete their Green Belt-level on-site training and Kaizens. The certificate will be awarded based on a LASL panel review of the project submission
When
LASL Lean Green Belt Certificate module is 8 days of intense learning, with sessions organized monthly for a maximum of 20 individuals or as requested by individual organizations to host at on-site. In addition to the lecture hall sessions, participants are required to complete project assignments and present on subjects.
Contact
A printable Lean Green Belt PDF file is available here.
Commencement
2021-March (4th Batch)
---