Total Productive Maintenance Master Practitioner Certification (TPM MP)
---
Download Course File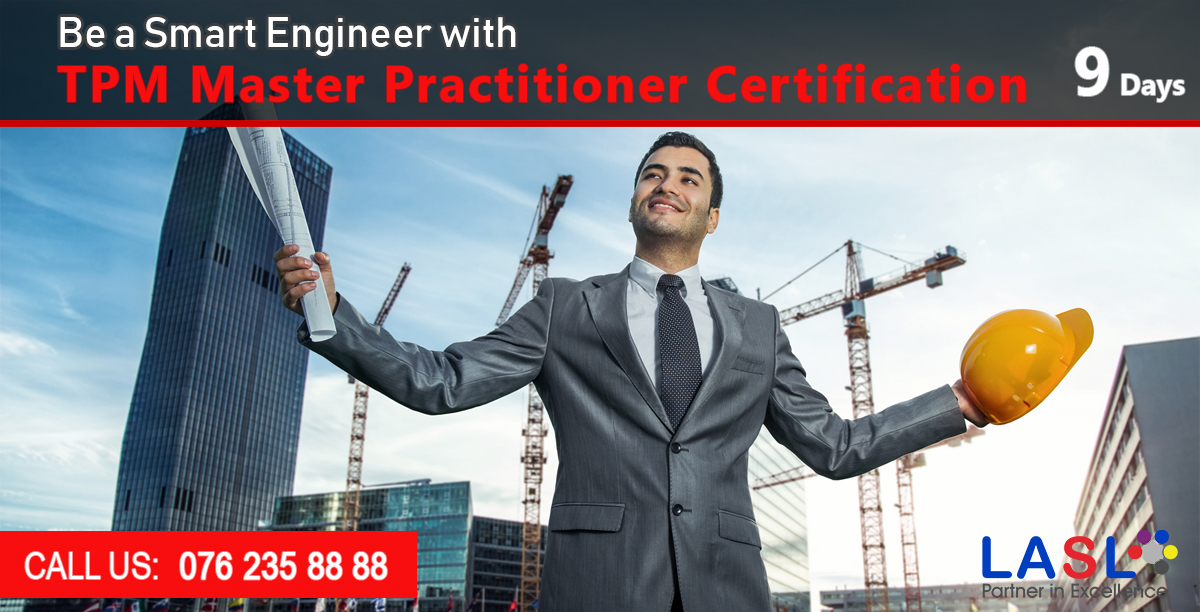 ---
LASL most specialized program, Total Productive Maintenance (TPM) focuses on getting the throughput needed from your current equipment assets by reducing equipment downtime and increasing reliability. "Throughput needed" explained high Overall Equipment Effectiveness (OEE) measured over the time you need that equipment to meet daily customer demand. Participants learn a progressive system of preventative, predictive and proactive maintenance in connection with ARCM (Advance Reliability Centered Maintenance Model). This helps eliminate the "fire-fighting" mode experienced by every company.
The program is design in 09 day a combination of lectures, shop floor exercises and on-the-job training will help begin this new approach to equipment maintenance. LASL prefers to host this in your organization where you will be able to gain full advantage of the program as it's focused on your needs, limited to 20 participant, and LASL will continue to guide your organizations to establish successful TPM model.
LASL registered in Tertiary and Vocational Education Commission (TVEC) under Registered No P02/0368
Course Content
Historical Background & Overview of TPM
Loss Structure and Concept of Equipment Efficiency
Pillar I: Kobetsu Kaizen / Focused Improvement
Pillar II: Jishu Hozen / Autonomous Maintenance
Pillar III: Keikaku Hozen / Planned Maintenance
Pillar IV: Hinshitsu Hozen / Quality Maintenance
Pillar V : Operation and Maintenance Skill Upgrade Training
Pillar VI : Approach to and Implementation of Initial System Control
Pillar VII : Implementation of Office TPM Activities
Pillar VIII : Building a System for Managing Safety, Health and the Environment
Total Productive Maintenance for Process Industries
Participants:
Understand and create system on Break down maintenance work into the 5 pillars of TPM (Focused Equipment Improvement, Autonomous Maintenance, Planned Maintenance, Maintenance Skills Development, Maintenance Reliability)
List all equipment in each of the 3 Value Streams
Apply the 5 pillars to a maintenance simulation
Apply the 5 pillars to each of the 3 Value Streams
Learn & apply the Operator-Owner Role in TPM (to one piece of equipment)
Learn & apply the Maintainer-Improver Role in TPM (to one piece of equipment)
Learn & apply the Engineer-Innovator Role in TPM (to one piece of equipment)
Established Measuring TPM via OEE and MTBF/MTTR
Participate to TPM Kaizen (to be put on 90-day Kaizen)
Registration
A Lean Foundations printable pdf is available here.
Fees & Funding
For more information on financial support and facilities click here.
Course Fee ( 9 Days ) - LKR 87,500
You have options for one or two installments
If two installments
1st Payment - LKR 50,000,
2nd Payment - LKR 37,500
* Fee shown here is with the Registration fee, Training Materials, Meal & Refreshments for 9 Days.
Duration
9 Days (9 Saturdays)
9:00 am – 16:30 pm
Venue
Lean Academy Sri Lanka (LASL), No.151/3/1, Negambo Road peliyagoda.
Commencement
2019-February
---